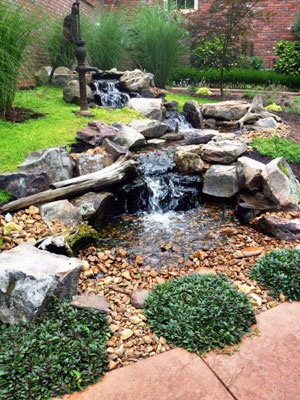 FROM DREAM.....TO REALITY
---
Carters Nursery, Pond & Patio - Jackson, Tn. 38305
731-424-2206

Established 1989.
Our Mission : To help our clients create beautiful, functional, low maintenance Landscapes & Water Features that enhance their lives!
We service West Tennessee - Jackson, Memphis, Collierville, Cordova, Munford, Oakland, Eads, Arlington, Martin, Milan, Medina, etc.
If you're in West Tennessee - we can help!
Landscape Design, Custom Water Features, Low Maintenance Landscaping and Outdoor Lifestyle Areas are a few of the services that we can provide to help you accomplish your goals.
We all want a home that reflects our Lifestyles. A home that provides the perfect setting for entertaining family and friends or just kicking back and relaxing... At Carter's we understand how to use the Landscape to change a house into a "Home" By expanding your Outdoor Living Space & creating a Beautiful, Private Oasis right in your own backyard. Carter's has been working hand in hand with our clients since 1989 to achieve these goals & we mean it when we say we can turn your -

" Dreams into Reality "

We begin our Design Consultations by listening carefully to learn what your priorities and desires are - We will walk the property with you & discuss the possibilities. Then we develop a custom Design Plan for the proposed work. This initial Design Process is so important! This is your home, and we want the Landscape Design and/or Water Feature Design to reflect what YOU want in your Lifestyle . Our Landscape Design expertise and ideas will help to enhance your ultimate goals. We can assist you with a complete plan for new Landscape Construction or a renovation of an existing Landscape or Water Feature .
Carter's Nursery, Pond & Patio is your complete resource for ALL your Water Feature related needs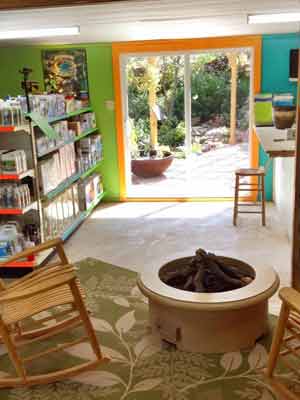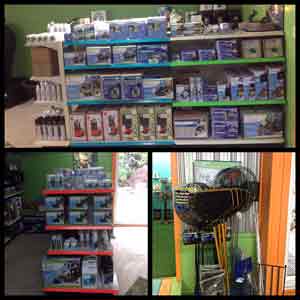 Water Gardens
Koi Ponds
Garden Ponds
Pondless Waterfalls
Streams & Creeks
Fountains
Pond Aeration systems
Pond Supplies
Fish Food
Water Treatments
Pond Pumps
Pond Filters
Koi Nets
Underwater Lights
Aquatic Plants
Carter's Nursery, Pond & Patio is the largest Design/Build Water Feature Specialists in Tennessee and were one of the first CERTIFIED AQUASCAPE CONTRACTORS in the country!
"You can rest assured that all our Waterfall Installers and Pond Maintenance Technicians are highly trained Professional's and are Certified, Licensed, Bonded and Insured!" says - Mark Carter,
Owner & Landscape Designer at Carter's Nursery, Pond & Patio.

Mark was a founding board member of the Certified Aquascape Contractors Association, is a Rain Exchange Professional, a prolific garden writer & blogger, a local radio personality (Fridays 10-11am. on WNWS 101.5fm Talk Radio) and an award-winning Landscape Designer.
---
Carters offers professionally designed &
Installed Custom Stone Masonry work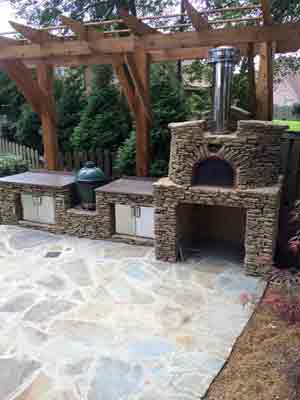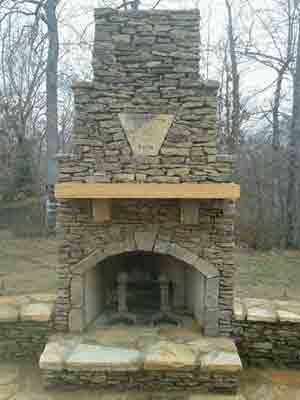 Custom Designed & Installed Stone Work
Stone patios
Outdoor fireplaces
Outdoor Kitchens
Fire pits
Seat Walls
Stone Retaining Walls
Stone Yard with a HUGE selection of Natural Patio and Building Stone to choose from at our NURSERY (Field Stone , Flag Stone , Mossy Boulders, Creek stone, Decorative Gravel & more)
Come check out our Stone Patio Displays, Outdoor Lifestyle Areas and Water Features
---
Carters Nursery, Pond & Patio carrys a complete line of Organic Gardening Supplies like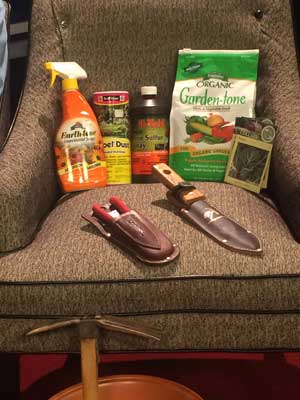 Garden Compost
Chicken Manure
Mushroom Compost
Organic/Natural Pesticides
Organic Fungicides & Fertilizers
Mulch
Potting Soil

You can depend on Carter's Nursery, Pond & Patio, Inc . to deliver Superior
Designs, the best in Professional practices and the Personal attention to
detail that has fueled our growth and success since 1989.
For more information, come by our Nursery and Showroom and
look at some of our beautiful Outdoor Room Displays, Water Gardens, Aquatic Plants, Fish, Stone, Fountains, Pottery, Trees, Shrubs, Perennials & Garden Supplies or give us a call to
set up a personal Design Consultation with Mark Carter
and let us help you turn your "Dream, into Reality".

PS:
2017 Events Schedule
Feburary 10th, 11th, & 12th (Fri., Sat. & Sunday) – HOME SHOW of the MIDSOUTH – At the Agricenter International in Memphis, Tn. www.midsouthhomeshow.com – Come visit us and see our BEAUTIFUL Displays.
Daylight Saving Time: Starts Sunday, March 12th, 2017
March 17th & 18th (Friday & Saturday) – Memphis Area Master Gardeners 13th Annual "Spring Fling" at the Red Barn at the Agricenter in Memphis. Come by to see us!
Come see our unique Water Features at the 'Spring Fling' at the Red Barn by the Agricenter.
March 25th (Saturday) – We will be setting up at the Tipton County Master Gardeners Annual Lawn & Garden Expo. in Brighton, Tn. Come by and see our display.
April 1st (Saturday) – Carter's Nursery Spring Festival & Customer Appreciation Day! Something for the whole family! Workshops & classes, a Petting Zoo & Pony Rides for the kids + GREAT FOOD for all! Come out and help us kick off SPRING! (Saturday 9am. till 2pm.) This is a FREE event!


Spring is in the air! Come celebrate with Carters Nursery Pond & Patio at our Annual Spring Fest! Fun for the whole family!
April 14th – Good Friday
April 16th (Sunday) – EASTER
May 14th (Sunday) – Mother's Day! DON'T miss this one!
Evenings By The Pond!
Come out and enjoy a laid back evening exploring a beautiful garden & relaxing by the pond. We always enjoy some good food, visit/meet friends & we try to always have an educational program on Water Gardens, Aquatic Plants, Fish OR some cool subject for all that come. These little get together's are held during the warm season and in different peoples homes & backyards. If you would like to come & enjoy the evening please let us know and you will be put on the e-mail invitation list. Call Jo at 731-424-2206


Our 'Evenings by the Pond' are always great!
–The first "Evening by the Pond" of the season will be hosted by Mark Carter & family at the Nursery Home on Thursday May 18th at 6:30pm.
Address – 2846 Old Medina Rd. Jackson, Tn. 38305. Please RSVP by calling 731-424-2206.
June 3rd (Saturday) 9am. –11am. – Butterfly Garden Workshop & Release: We will have a great guest speaker, information on creating your own butterfly garden, special butterfly plants & more!


Our annual Butterfly Release is a don't miss event! Call to register and order a butterfly!
PLUS – a LIVE BUTTERFLY RELEASE! Bring the kids AND bring a CAMERA! Don't miss this one! Call for more info and to order a Butterfly to Personally Release! #731-424-2206 – ask for Jo or Donna.
June 18th – Father's Day! Let's remember Dad!
Pond Tours in 2017
We are sponsoring two (2) Pond Tours this year; a Summer Pond Tour (June 24th) & a Fall 'Moonlight' Pond Tour (October 7th). Both are fund raisers for our local Jackson Madison County Humane Society.
June 24th – Our 19th Annual Summer Pond Tour – Our 'Summer' Pond Tour (Always the Saturday after Father's Day) is A FUN and Beautiful Day! This is a Self-Guided Tour and Fundraiser for the J.M.C. Humane Society. Tickets are $10 ea. (children under 12 are FREE!). Carter's Nursery is "Pond Central" for the Pond Tour and we invite you to come by throughout the day to sit a spell, have a drink & something to eat and look at the BEAUTIFUL Gardens and Water Features.


Unique Water Gardens, Pondless Waterfalls and Fountains will be on the tour.
~ This is also the night of the "Moonlight Luau!" Live music! + We cook fresh pork wrapped in banana leaves & spiced up "Kalua Style" and have a party beneath the stars! This is a DON'T MISS event! More info to come!
July 4th (Tuesday) – Independence Day! We will be closed Monday the 3rd & Tuesday the 4th in observance of this holiday!
SUMMER SEMINARS We do three (3) every Summer! Come Take part in our educational Classes, Tour our Gardens and Ponds & stay for lunch with Mark Carter "Pond Guy" and crew for a great day of Fun and Learning.
July 15th – 9am. –2 pm. 'Get Your Feet Wet with Water Gardening!' will kick off this season.
August – Date & Class TBA
September – Date & Class TBA
October 7th – Our 13th Annual "Moonlight" Pond Tour. This is our Annual Night Time Pond Tour! The tour always falls on a Saturday Night closest to the Full Moon!! Don't miss this Unique Garden Tour Experience! Tickets are $10 ea. (children under 12 are FREE!). 100% of ALL ticket sales & donations go to the J.M.C. Humane Society! Carters Nursery is "Pond Central" for the Pond Tour and we invite you to come by throughout the evening to sit a spell, have a drink & something to eat. Enjoy the Fire Pit and look at the BEAUTIFUL Garden and Water Feature Lighting.


This BEAUTIFUL property is on the Moonlight Pond Tour! Come see what Outdoor living is all about.
October 21st – Fall Festival/Customer Appreciation Day. Come take part in our Workshops & Classes! FREE LUNCH for ALL that come! Petting Zoo & Pony Rides for the kids! BIG SALES for the Fall Season for all that come!


The pumpkin carving is always a hit!



Daylight Saving Time Ends : Sunday, November 5th, 2017

Thanks, all of us with Carter's Nursery hope to see you all here! Call me with any questions at #731-424-2206.

Here's to a GREAT 2017!


Come Visit The Koi Shack
For all you "Koi Lovers" out there, Come visit the "Koi Shack"! We offer only, Healthy , Select Quality Koi here at Carters Nursery, Pond & Patio. This commitment to Quality Koi has really driven our fish business and we have grown!
I want you all to come in and see the "Koi Shack" that we have developed. We have added lots of new Koi tanks and carry a line of Select Koi, Elite Koi & Premium Quality Koi .
These Koi are Healthy and Beautiful! We also carry the very best Koi Food , Koi Medications and Koi/Pond Supplies on the market!
Come on in and look around, our fish experts can answer questions and help you with your existing Koi & Pond Fish or help you pick out the "Perfect" Koi for your Pond at home.

See Ya'll Soon