West Tennessee Pond & Koi Club



2013 Season Events


We are looking forward to our upcoming Events Schedule for 2013. We have LOTS of FUN and EDUCATIONAL programs and things for you to take part in. Check the dates below and come on out and join us. Call or e-mail with any questions - #731-424-2206 or cartercountry@charter.com or snail mail at 2846 Old Medina Rd. Jackson, Tn. 38305.

FEB 22nd, 23rd.& 24 – West TN. Home, Lawn & Garden Show at the Jackson, Tn. Fairgrounds. Come see our BEAUTIFUL Displays and enjoy the early SPRING with us

MARCH 16th. – Carter's Nursery Spring Expo/Customer Appreciation Day! Something for the whole family! Workshops, classes a Petting Zoo & Pony Rides for the kids and GREAT FOOD for all! Come out and help us kick off SPRING! (Sat.)

MARCH 22nd. & 23rd (Friday&Saturday)- The Spring Fling with the Memphis Master Gardeners. At the Red Barn at the Agricenter in Memphis.
MARCH 31st. – EASTER Sunday!

April 20th. 9 am. - Organic Gardening 101! We will go over how to prepare & plant an Organic Garden of your own! Get your hands dirty OR just watch and join the discussion and enjoy a morning in the garden.

May 2nd. – (Thursday @ 6:30 pm.) I will be speaking and presenting a program for the Tipton Co. Master Gardeners.

May 18th. – 15th annual Spring Pond Tour – Our 'Spring' Pond Tour. 1st. of the season! (Sat. after Mother's Day) – A FUN and Beautiful Day! This is a Self Guided Tour and this is a Fundraiser for the Jackson Humane Society. Tickets are $10 ea. (kids under 12 are FREE!).

June 1st. (Saturday) 9am – Butterfly Release: We will have a great guest speaker, a class on creating your own butterfly garden & a LIVE BUTTERFLY RELEASE! Bring the kids AND bring a CAMERA!.

June 22nd. – 15th annual Summer Pond Tour – Our 'Summer' Pond Tour (Sat after Father's Day). A FUN and Beautiful Day! This is a Self Guided Tour and this is a Fundraiser for the Jackson Humane Society. Tickets are $10 ea. (kids under 12 are FREE!). This is also the night of the "Moonlight Pond Party!" By popular demand we will be having another Hiawian style Luau party for this event! Kailua Pig, beach music and more! This is a DON'T MISS event!

SUMMER SEMINARS – TBA. We will host 3 different Seminars over the Summer Months(July, August&September). We will announce the topics and dates soon.

Monthly Pond Club Meeting (May thru September) dates TBA.
Sept. 21st. – 9th annual Moonlight Pond Tour – Moonlight Pond Tour (9th Annual). This is our Annual Night Time Pond Tour! The tour always falls on the Saturday Night closest to the Full Moon!! Don't miss this Unique Garden Tour Experience!
http://cartersgarden.wordpress.com/2013/08/19/the-moonlight-pond-tour-shines-with-the-full-harvest-moon/

Oct 19th – Aquatic Expo / Fall Festival – Fall Expo/Customer Appreciation Day. Come take part in our Workshops & Classes! FREE LUNCH for ALL that come! Petting Zoo & Pond Rides for the kids! BIG SALES for the Fall Season for all that come!

Thanks, and I hope to see you all here! Call me with any questions at #731-424-2206. Here's to a GREAT 2013!

~ Mark Carter

Download the currnt issue of the Aquagardener Here.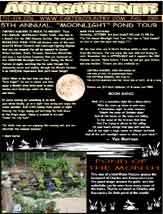 Download Archived Copies of Aquagardener
Spring 2009
Summer 2009
--------------------------------------------------------------
On Fridays don't miss MARK CARTER:
"LIVE" on The BILL WAY SHOW.
He is on at 10:00 a.m. Station 101.5 F.M.
Call in and ask Mark any gardening questions
you may have.
"The Aquagardener", the West Tennessee Pond & Koi Club newsletter is published quarterly and includes related topics and
features a members pond in each issue.
This newsletter is available to all
West Tennessee Pond & Koi Club members.
Click here to check out The Aquagardener online.
(requires Adobe Acrobat reader)
Pond Club Members and NAWGS Member Benefits
1. 10% Discount on Pond Supplies (Excluding Labor)

2. Quarterly Newsletter

3. Spring & Fall Workshops (March and October)

4. Plant Swaps

5. Summer Seminars (July, August, September)

6. Message Board on the Web

7. "Parade of Ponds" Tour (Fundraiser)
(Weekend after Father's Day)

8. Members Lending Library

9. Spring & Summer Monthly Socials
(April thru September at a Pond Club Member's Home)

10. Referral Program

11. 10% Discount at Potter's Garden
(N.A.W.G.S. members only)

12. "Moonlight Parade of Ponds"
(N.A.W.G.S. Pond Tour / Fundraiser)

Please click here for an application.

For more information please email Mark Carter.

Click above for more info.
Click here for N.A.W.G.S. newsletter articles.
The West Tennessee Pond & Koi Club is a division of Carter's Nursery, Pond and Patio, a for profit company, licensed by the state for the purpose of promoting the hobby of water gardening by engaging in educational & social activities.